Happy Sunday! And hello from Vegas! I've been in Vegas this weekend in case you didn't know. But doesn't mean I forgot about Shopping Sunday. This Sunday we have six shops that all have different items to offer on Etsy.
---
Up first is Brittani from Thoughtfully Red. She makes handmade greeting cards and invitations. They're not digitally made, but are each carefully made with paper, glue and embellishments.
To visit their shop go to: ThoughtfullyRed.etsy.com
Use the coupon code SUNDAY20 for 20% off.
Coupon expires March 29, 2015
---
Emily makes handmade journals with pretty paper and beautifully stitched exposed bindings. Her shop is the Fineberg Art Studio and they're perfect gifts for anyone.
To visit their shop go to: finebergartstudio.etsy.com
Use the coupon code madewithlove for 10% off.
Coupon expires TODAY March 22, 2015
---
Crimson & Clover Goods is a shop run by Amy who makes vegan soy candles using essential oils, GMO-free, USA-grown soy, tarnish free tins, and metal-free wicks. All of the stones are natural and handpicked; and the birch tree used in our wood-slice artwork was once in her yard and is being given a second life after being knocked over in a bad storm last year. Everything is handmade with good vibes and positivity, in sunny California.
To visit her shop go to: crimsonclovercandles.etsy.com
Use the coupon code SHIPFREE for free shipping.
And receive an exclusive 20% off your second purchase after you review your first order.
---
Aura By Aurachuda is a shop that has pretty sparkly cell phone cases that can be custom made. Beam pays attention in all of the pieces and she can make custom orders as well.
To visit their shop go to: aurabyaurachuda.etsy.com
---
Run by Liz and Jon, The Card Bus is a new creative business nestled in a little city in the UK called Canterbury. They sell handmade bunting and crochet dream catchers and has lots of items being added regularly. They also have greetings cards and commissions are always welcome if there is something you fancy but don't see it in the shop – get in touch!
To visit their shop go to: etsy.com/uk/shop/TheCardBus
Use the coupon code HAPPYBUS123 for 10% off with a minimum of £5 purchase.
Coupon expires April 30, 2015.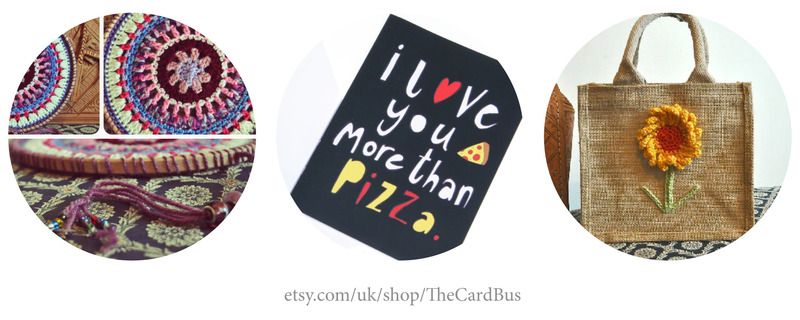 ---
Shop owner Katie from Beach Chick Designs, can make creative designs out of reusable wood. Don't like the color or pattern? Want something that's not promoted? Just ask her and she can customize a piece just for you, or that special someone!
To visit their shop go to: etsy.com/shop/BeachChickDesigns
Use the coupon code HAPPYSPRING13 for 25% off.
Coupon expires April 13, 2015
If you want to be featured please visit [ THIS LINK ] to learn how.