It's Shopping Sunday and this week I have featured five different shops that feature their art and style their own way.
---
Vivid Designs is a shop owned by Ruthie and Alex, a husband and wife run shop located in Brooklyn, NY. They sell prints of original digital designs as well as vintage art reproductions which are printed in their home studio. They also make handmade greeting cards and invitations. They're not digitally made, but are each carefully made with paper, glue and embellishments.
Shop Link: etsy.com/shop/vivideditions
Current Promo: Buy 2 get 1 free.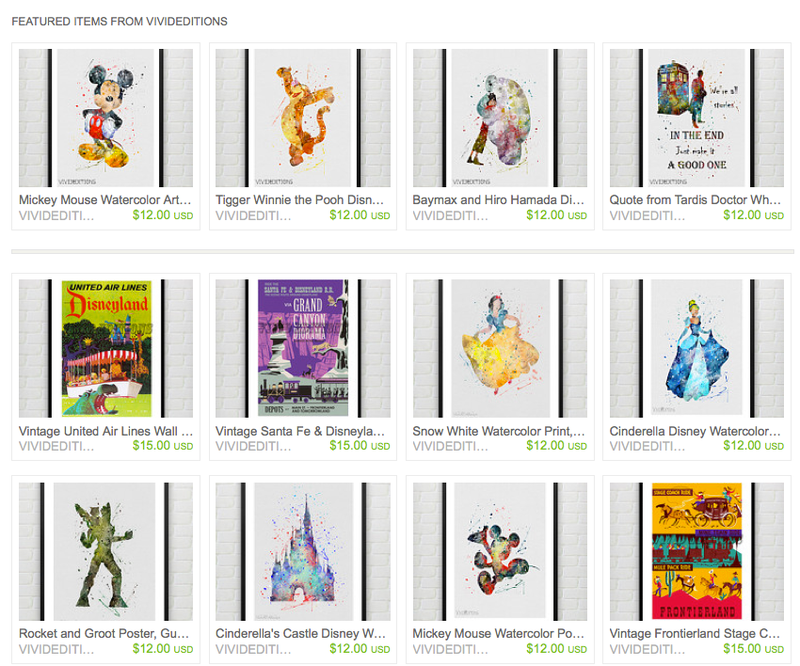 ---
Dakota and Aspen, sisters/best friends love to create together! Their shop Owl and Pen is a space that share their whimsical, hand-drawn designs on cards and prints. Their cards are suitable for all occasions and they accept custom orders! They are constantly designing and adding to the shop such such as holiday cards that change with the seasons.
Shop Link: etsy.com/shop/owlandpen
Use the coupon code FREESHIP15 for free shipping.
Coupon expires May 1, 2015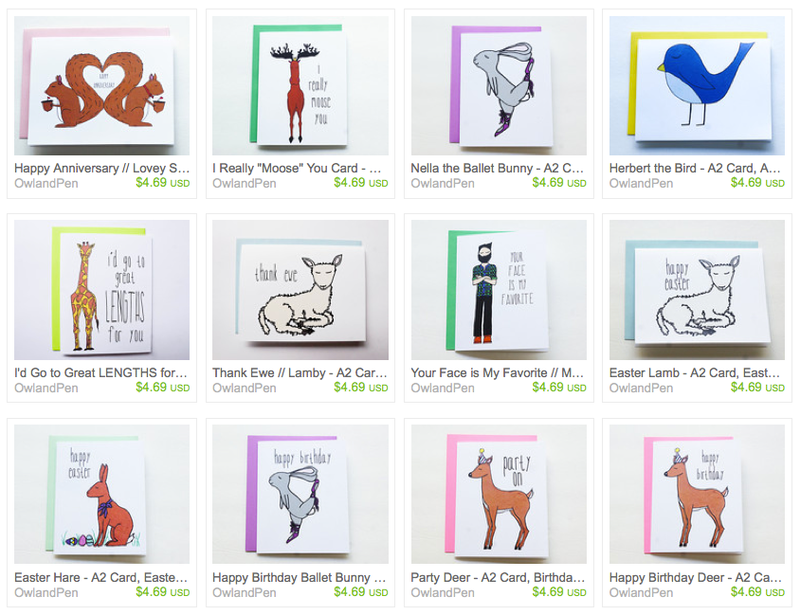 ---
Charlie, owner of Blossom and Ivy sells a range of items that all come from my own hand painted artworks. She adds her art to many items such as phone cases, notebooks, cushions, cards and device sleeves. Her work is inspired by her love of animals and nature.
Shop Link: etsy.com/uk/shop/BlossomandIvy
Use the coupon code SAVE10 for 10%.
Coupon expires May 31, 2015
---
Melissa is from England and she creates custom portraits of various types in her shop Love From Liss. She can create a portrait from photos of your Pets, pet memorial, weddings, or custom ones of family members like children and logo design. She will soon be adding custom couple cartoons and family cartoons which can be displayed or used for save the dates or invitations so be on the look out. And in the coming months she will be expanding to physical pictures not just digital.
Shop Link: etsy.com/uk/shop/LoveFromLiss
Use the coupon code BlogCode25 for 25% off.
Coupon expires April 19, 2015.
---
Anton is the owner and curator of Clan-P [Clan Poster], a small poster studio from Kiev, Ukraine. Anton, devotes a lot of his time making art and motivational posters. Brand Clan-P is a group of friends that engaged in producing of art posters and iPhone cases.
Shop Link: etsy.com/shop/ClanPoster
Current Promo: Buy 2 get 3 and receive free shipping worldwide.
Coupon valid only in April
---
---
---
If you want your Etsy shop to be featured please visit [ THIS LINK ] to learn how.